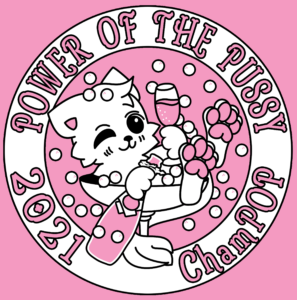 Ragtime H3 (with the generous use of Chicago H3's platform) is excited to announce:
It's finally happening! PoP is turning 21! Time to bust out your finest cocktail attire and join us as we PoP the champagne for the 21st Anal Power of the Pussy!! All (vaccinated*) hashers are cordially invited by Chicago's Ragtime Hash House Harriers for our brunchy and boozy celebration! 
Important: This event is for fully vaccinated people only, and you will be required to show proof of full vaccination to the Ladies of PoP within 3 days of signing up. If we don't receive your proof of vaccination we will cancel your registration and refund your money. Not vaccinated yet? Now is a great time to get on that! Just show us proof of your appointment and have your 2nd dose (or only dose of J&J) by August 14 (we will also need to see proof of full vaccination once complete). This isn't about politics, it's about science. Several ladies on the planning committee have children too young to be vaccinated, so we just can't take chances. 
Date: Saturday, August 28, 2021
Time: 11a (food and games at 11a; trail on-out around 2p)
Location: Catherine Chevalier Picnic Shelter #3
Cost: $35 through July 31
          $40 August 1 – August 27
          $1,000 August 28
What to expect: This awesome one day only event is being hosted by the Ragtime H3, so you wankers know what that means: CHAMPAGNE BRUNCH SO HARD!! We'll start the day with champagne, some brunch foods, and the signature PoP carnival games. Then when the hares are done setting their death march, y'all will go on trail. Return back to the park (assuming the hares don't murder you) for epic circle, beer, and snacks (think orange food and some heavy apps). There will be awesome swag included with your rego and an optional shirt for purchase. 
Dress Code: Let's make this the classy affair it deserves! Bust out those ball gowns and tuxedos! Black tie (or your interpretation of it**) is strongly encouraged. There may or may not be awards for best dressed.
*proof of full vaccines will be required to attend.
**your naughty bits must be covered
Payment: once you fill out the form please pay Soul Taco via Friends and Family PayPal at sbarne7@gmail.com. 
We will be selling POP 2021 Tank Tops for $15 this year.  There will be men's and women's cut tanks. The deadline to order a shirt is August 4th. 
Ladies of PoP:
The Dark Kunt
Two Girls, One Cupcake
Soul Taco
Sanding Ovation
Little Trojan Annie
Disco Balls
All Bush No Balls
Prickly Puss
Salty Gash
Puff the Magic Tampon